See how compliance works in each country
Regulatory Guides
Country-specific guides to get you up to speed. See how jurisdictions are regulated in a snap – whether scoping new sites, training teams, or prepping for audits. 
Explore what you need to know to expand your business and train your teams
Regulatory Guides cut straight to what's most important in each country– whether you want to expand operations into new jurisdictions or train new teams. From identifying potential risks to preparing audits or developing company policies, you can be confident as you kickstart the next evolution of your business.   
Schedule a demo
With Regulatory Guides, you can…
Save time
Stop digging around online. Use our standardized approach to narrow-down info to the EHS topics most important to your business.
Know where to begin
Be clear on key authorities, how laws are classified and enforced, and the high-level requirements to comply with. All from the start.
Mitigate risks
Pinpoint high-risk issues for investing in new locations. Understand what your business needs and the next steps to get there.
Avoid knowledge gaps
Stay on top of what you need in an always up-to-date, AI-powered index of laws, proposals and policies.
Learn and train quickly
Familiarize with legal terminology, or get up-to-speed pre-audit. Train on cross-jurisdictional or cross-functional subject matters.
Involve more people in EHS
Easily onboard colleagues regardless of their background with compliance guides that read like a book.
Look inside Regulatory Guides
Powerful search engine
Skip the guesswork
Transversal views
Filter & cross-compare
Integrated solution
Dive deeper into details
On top, on the go
Use them anywhere
Quickly go from questions to clear answers
The easy-to-use search guides you through the extensive database of worldwide regulatory EHS obligations, permitting issues authorities, and main evidentiary documentation. Find answers fast by jurisdiction or by topic – all universally standardized and comparable across the globe. 
Research exactly what you want to know
Filter topics from standardized headers, add the countries you want to track – transversal views help you easily identify and compare the level of compliance across your business, across the globe. 
Click through for more context – and for what comes next
Starting from Regulatory Guides' content, each topic links directly to relevant legislation and government websites. Integration with the Enhesa Regulatory Forecaster allows you to go further into what's happening in each region – and to look ahead at upcoming impactful issues.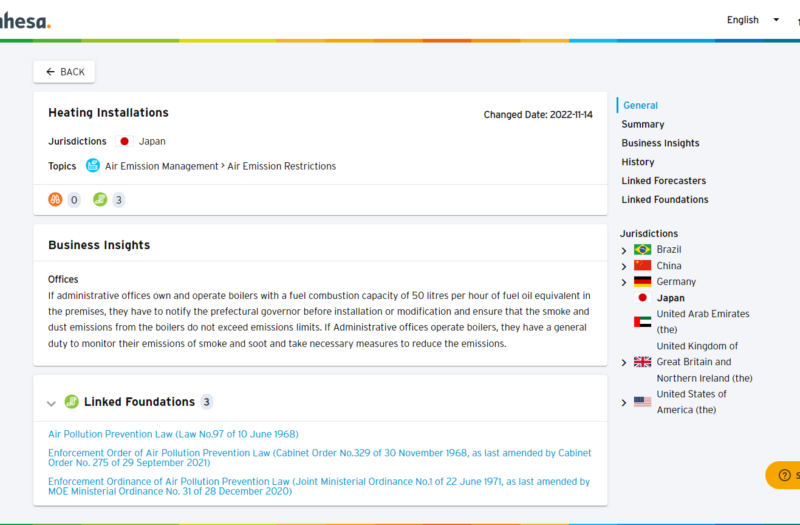 Keep it going with full-text and mobile-friendly guides
Regulatory Guides are ready when you are – wherever you are. Consult full-text info on your mobile and prepare for discussions on the go, heading to your next audit or discovery meeting at a potential site. Updated on a quarterly basis, the information stays at your fingertips to prepare the questions you'll need to ask. 
Covering the widest scope of EHS issues in the most regions
See what you can save on compliance
Calculate your estimated ROI from working with us and find out how much you can save, while optimizing your goals. Identify and achieve your business's specific compliance objectives with help from our knowledgeable team who is here to answer your questions, provide clear-cut quotes and give you an inside view into our solutions in one-on-one, no-obligation demos.
Calculate your ROI
Take the next step in your compliance journey