Responding to a Request in SciveraLENS
How to Respond to a Request in SciveraLENS
SciveraLENS® provides an innovative approach to chemicals management. Hundreds of users across the globe use SciveraLENS to better understand the chemicals in products and processes, quickly see if the chemicals being used are in compliance through automated list screening, identify problematic chemicals and identify potential alternatives using comprehensive hazard assessment results from our team of board-certified toxicologists, and share chemicals sustainability achievements while maintaining proprietary ingredient information.
We believe that transparency does not require exposing confidential ingredient information. Using SciveraLENS, users can request ingredient information and view assessment results in redacted form meaning your ingredients remain secret.
When a request is generated, you will receive an email from our system that will look something like this:
If you are new to SciveraLENS, this email will include a link asking you to sign in and confirm your account before proceeding. If you already have a SciveraLENS account, you will be able to respond to the request using your existing login credentials.
To proceed, follow the link in the email or go to your "Received Requests" in your SciveraLENS account. Here, you will see any Requests that have been sent to you using SciveraLENS:
To respond, you can choose from "Select existing Collection" if you have Collections already entered into your SciveraLENS account or "Create new Collection":
When you select "Select existing Collection", you will arrive at the following screen where you can choose which Collection to share and confirm the sharing permissions:
If you select "Create new Collection", you will enter the Collection Builder Wizard that will provide some guidance on how to get started with the process: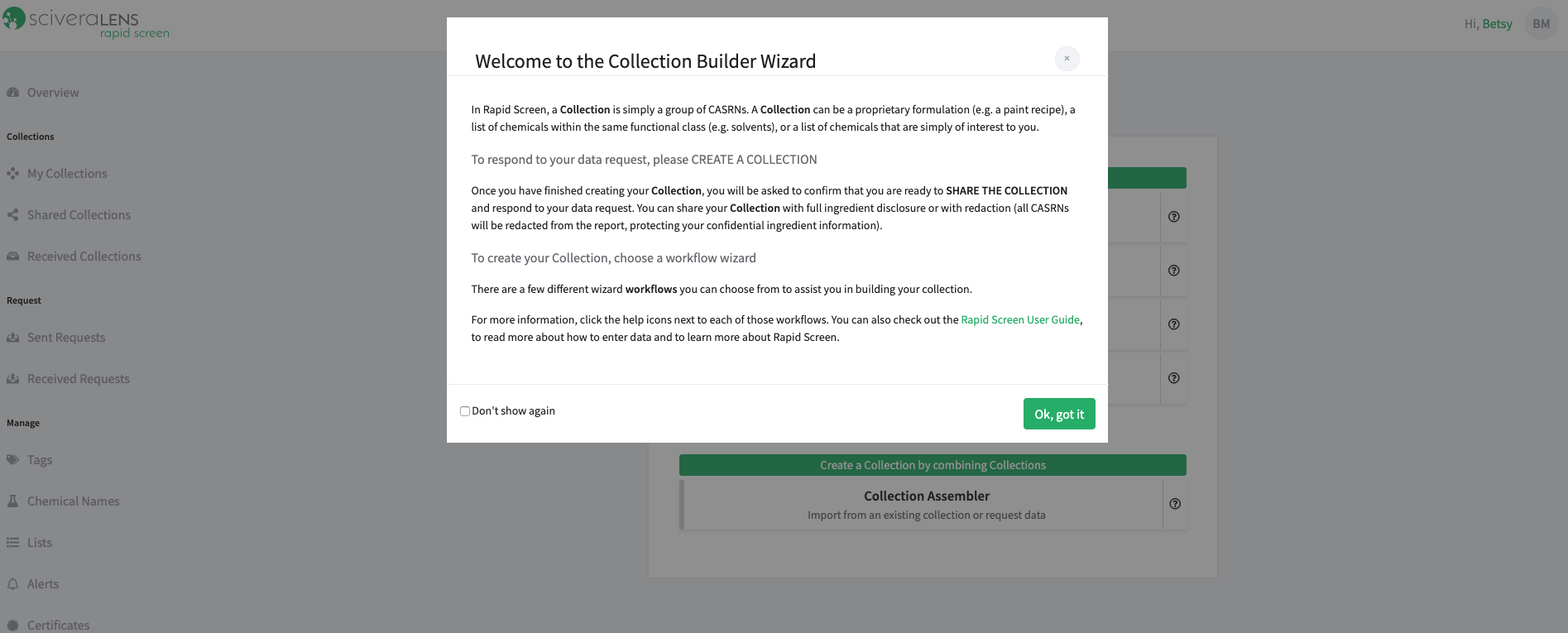 Choose the Collection creation method you would like to use and follow the prompts to enter your chemical ingredient information and attach any supporting documents:
(Need more information How to Create a Collection in SciveraLENS? Make sure to read our step-by-step guide here.)
Once you've completed your Collection, you can confirm your sharing permissions and select "Share" to complete the response process:
(Hint: Clicking on the "REDACTED" box included on this page will give you a preview of the redacted bill of substances that will be send to the Requester.)
Your Received Requests panel will be updated to show "Completed":
If you would like to learn more about what assessment results the requester will see or if you are interested in using SciveraLENS for your own chemical assessment process, please let our support team know.
How to Respond to a Certificate Request in SciveraLENS
When sending a product request in SciveraLENS, users have the ability to indicate if the request is related to a product that they would like to get Screened Chemistry certified or EIM certified.
Certification requires Confidential Full Formulation Disclosure (CFFD) and has additional fields that need to be filled out and required documentation.  To respond to a request for certification use the steps outlined in Responding to a request in SciveraLENS.  The last step will provide a preview screen to show all of the required fields for the certification request.  The SCIL Function (if applicable), Designation, Type, and Concentration will need to be filled out before completing the request.  CFFD also requires documentation such as Safety Data Sheets and PADC forms for polymer reviews.  If your product contains a polymer, please see the section of the User Guide on Accessing Polymers in SciveraLENS.
You have the option to Save Progress if you do not have all of the required fields completed so you can come back and finish the collection at a later time.
You will only be able to Complete Request once all of the required fields are completed and required documents uploaded.